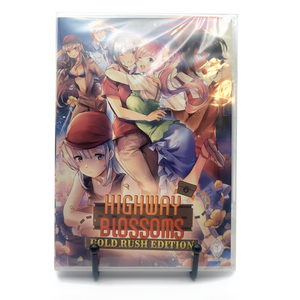 Studio Elan
Highway Blossoms: Gold Rush Edition - Classic Edition
Regular price
$32.00
$0.00
Unit price
per
Shipping ETA January 2024

This is a distribution game courtesy of Studio Elan!


A physical disc copy of Highway Blossoms: Gold Rush Edition, playable on Windows / macOS / Linux. The Gold Rush Edition includes both the base game and the Next Exit DLC.
The classic edition of the game comes in a DVD-sized case. One cover features the regular cover art, while the reverse side features one of the other key visuals from the game.
Package includes 8 page companion booklet insert, featuring a bonus short story and more.

---
Highway Blossoms is a yuri kinetic novel set in the American Southwest. After an old gold rush miner's journal is discovered,supposedly detailing where he hid parts of his stash, a nationwide craze begins as would-be prospectors try to solve its clues and strike it rich.

Amber couldn't care less. Wandering the desert in a recently-inherited motorhome, she mourns the loss of her grandfather - indifferent and unaware of the hunt happening around her. It's not until she meets Marina, a young hitchhiker lost in New Mexico that the girls get swept up in the rush.
Highway Blossoms: Next Exit: Return to Las Vegas with Amber and Marina in this new Highway Blossoms story! A couple months after the events of the first game, the two girls return to the desert city for an alien-themed convention and to see Tess for her birthday. They also end up reuniting with Cassi, the candy shop girl, who's determined to start following her own dreams.
---